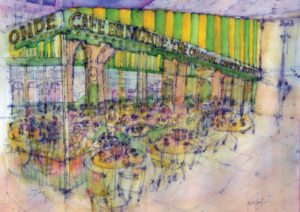 Happy May Day! That's what they call the first. Still, I'm pretty sure there's actually gonna be 31 of these May Days this month, I don't want to be "day-ist" and put one day above another. So for the Politically Correct crowd I mean Happy May Days.
Y'know, I like to think of myself as the adult version of the boy next door. No, not the weird quiet one with creepy stuff in the basement, but the guy who helps carry in your groceries, or gets your cat out of the tree, or feeds your hamster when you're out of town. However, the truth is that the reality of my life is a bit different than most. I travel week to week for a living, making people (mostly) laugh, and find myself far from home on most days.
This week, I found myself feeling almost…normal in an extraordinary place: New Orleans,  Okay, my perception of "normal" might be a bit skewed,  but stay with me on this.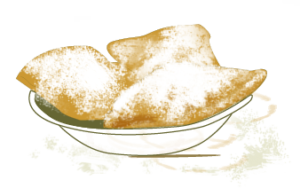 I had my first beignet (fried dough with powdered sugar) and coffee (au lait) at the world-famous Café Du Monde in New Orleans. (The drawing above is the cover of their catalog.)
After trying three times to get a table (the line is often a block long and I had other things to do), I got a great spot, ordered, and realized I was excited to write a few lines, or be creative somehow, in a café brought to my attention by one of my favorite authors, James Lee Burke. One of his characters, Dave Robicheaux, mentions the Cafe in a few of the books.
That Café Du Monde magic worked! The food and atmosphere brought me right back to when I started comedy in San Francisco.  My routine was to wake up, get a half-dozen day-old donuts, a giant coffee, and go to write at Lone Mountain College library until dark.
I have few food memories, as meals are mostly a chore. (Some folks live to eat, I'm one of the "eat to live" types.) But on this day in this place, I was able to reach back in time in the best way. I had forgotten the feeling of being amped on caffeine, hyped by sugar, and raring to be creative.
Some writers and artists fuel their creativity with whiskey and cigarettes—or something harder—but for me good coffee and and fried dough with powdered sugar were the fuse for my Muse.
If I thought my sleep pattern, my stomach, and my blood pressure could take it, I'd return to that table at the Café Du Monde in a heartbeat.  Instead I'll take the memory of how I felt a little "Steve Bruner" normal in New Orleans.
And maybe even pencil in a rare "coffee and donuts day"  when finally I get  home.