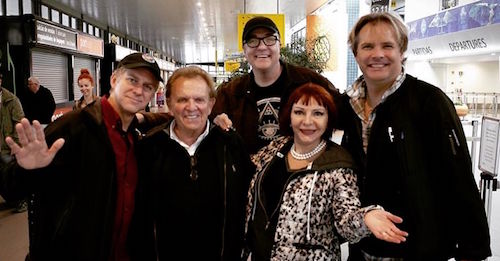 Entertaining audiences is a great way to spend a career. What makes it even better are the fellow entertainers you befriend along the way.
My last trans-Atlantic cruise featured a great variety of performers that I have known for a long time. Pictured above (left to right) are me, Bobby Arvon, Levent Cimkentli, Hanna Starosta and Sean O'Shea at the airport in Ponta Delgada, Portugal. (The Azores!)
Bobby is a singer, songwriter, musician and impressionist. Throughout our 20-year friendship, I have taken his advice about so many aspects of performing. Fun fact: He sang the "Happy Days" theme song! And he can tailor almost any song to include some of the lyrics. He took the time a few years ago, to call my Mom and sing her Happy Birthday to his famous tune. She talked about it every year since.  (Yep, that "Happy Days…" You're now singing it in your head, aren't you?)
Levent makes magic funny—and fast. He has so many jokes per minute, it's amazing. (I'd say laughs per minute, but some of the jokes are so fast, I miss a few. He's the first act I'd pay to see on NyQuil (him, not me). And just maybe, I could laugh at EVERYTHING. He is the youngest magician to win the "Masters Award" by the Society of American Magicians.
Hanna  rocks the violin—literally. She's my newest travel friend. I just met her this week, even though we've both been around a while. She knew everyone else performing, and they all asked: "How can you not know Hanna?" So, I knew we were going to be friends. She wows audiences with her virtuosity and wit. She plays every type of music from classical to contemporary.
Sean mixes characters, comedy and music with unbelievable energy. His is a workout on stage. If you're sitting up front, your neck will need a massage after watching all the ground he covers, on stage, in the audience. And he might even sing you to your seat if you show up late (I don't suggest it!) He also helped me pick out and mash-up my wedding dance mix so the audience (aka my wedding guests) would laugh, and no one was disappointed. (Wow, that's been 8 years…) Whoever described his act as "Rich Little meets Jim Carrey!" is spot on!
If you can catch any of these folks on land or on sea, do it, I wouldn't miss any of 'em, except when we part company, then I miss 'em all.