For my last blog entry of 2018, I want to share an amazing first: I was the first comedian to perform on Celebrity Edge, the newest Celebrity Cruises ship. The ship's name is no accident—it's on the leading edge of innovation. (And I have performed on enough ships to know!) This new ship was covered by USA Today, Forbes, and CNN.
There's the Magic Carpet, a venue that changes locations from nearly on the water to 13 stories above sea level. No clue how it works, but the views are incredible. I checked out everything: the Rooftop Garden, the Grand Plaza and the new Eden space, all which makes the ship worth exploring.
Of course, I was particularly interested in the stage where I'd be performing.
The main theatre is nearly in the round, and I was the first guest entertainer to play it. This was an honor and an adventure. The layout means latecomers must pass just a few feet from the stage.
While I generally perform the set I have written and refined, I had fun ad libbing commentary on the people looking for their seats. Some people are sorry they're late and others want to make statement by being late, and both offer a fun reason to engage the audience, especially when everyone was experiencing this new ship together.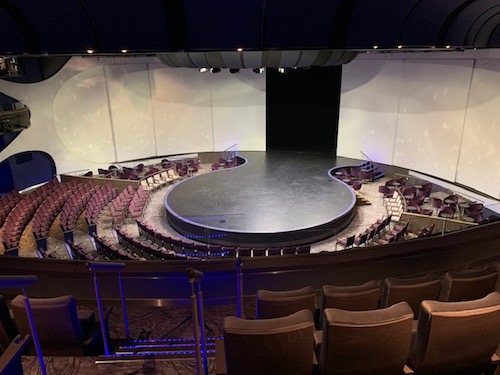 There are huge screens behind the entire stage that someone will put to use in a future comedy show, but right now they're a fantastic visual addition to the ship's music and dance performances.
I had a great time performing on the newest and coolest ship in the world. Thanks to Celebrity Cruises for an early Christmas gift!