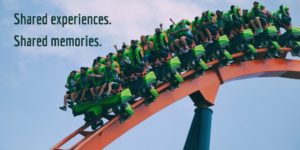 This year it was brought to the thick-headed reminder center of my brain that the true gifts of existence don't always come wrapped.  It was a thought for the year coming up to look, to plan, to share, and to have the wonderful things called "experiences." You see: things done often are the true measure of a life well lived.  They are the center of the story we like to hear and some of us like to tell.
I know, having traveled the world by myself, and having taken some pictures of the same, and trying to share them like a summer vacation slide-show, that by far the best trips I've had are the ones I've been able to share in person, with others, combine pictures, and revisit and talk about for the future years.  There's more fun re-living an experience with people sharing the same moments, than much else I've ever known.
I'm not saying you can't have a great time by yourself, some of us (like in my job) are often forced to…but for the end of this year, and heading into the next year, and I hope for however many "nexts" I'm allowed, that I plan my life to create memories with others.
May you also have not just the wonderful holiday of having the experience, but also the joy of sharing your experiences with people who want to share them with you!